Haff Picked To Lead TC Supervisors: Brandon Passed Over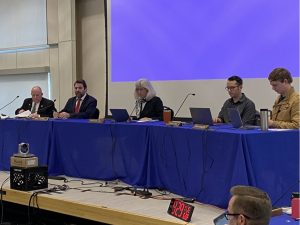 Tuolumne County Supervisors Meeting
Tuolumne, CA — Kathleen Haff was picked to lead the Tuolumne County Supervisors, but there was a shakeup in the selection of the second in command.
District Three Supervisor Anaiah Kirk convened today's first meeting of 2023, having served as board chair throughout 2022. The first item of new business was to pick a new chair and vice chair for the new year. The board traditionally uses a rotating leadership system, and District Four Supervisor Kathleen Haff was vice chair throughout 2022. In preparation of requesting nominations for chair, Kirk thanked Haff for her help throughout last year, stating, "She's phenomenal, and has been way more than I ever expected."
District Five Supervisor Jaron Brandon then made a motion to appoint Haff as the new chair and it was seconded by Supervisor Ryan Campbell. The vote was 5-0 in favor.
Using the rotating system, District Five Supervisor Brandon would typically be next in line to be the vice chair. Shaking things up, Supervisor Kirk made a motion to instead nominate District One Supervisor David Goldemberg for the role, essentially skipping over Brandon. It was seconded by Campbell, and approved 4-1, with Supervisor Brandon opposed.
Brandon then stated, "It is a decades-old tradition to rotate these, and it is noted that it is (now) changed. I put the time in and want to do a good job, but I respect the board's decision. To my knowledge, this has only happened one other time (historically)."
The board members did not indicate why they preferred Goldemberg to be the vice chair. Both he and Brandon are beginning their third year on the board after being first elected in 2020.
You can click above on "view video" to watch the six-minute discussion about picking a new chair and vice chair.
Today's meeting is being held offsite at the Tuolumne Resilience Center so there is no livestream offered. The meetings over the next two months will be held away from the administration building because of needed elevator repairs.
Other items on today's agenda include approving an updated memorandum of understanding with Calaveras County to house jail inmates. We reported earlier that Tuolumne County Jail is running at a reduced capacity due to low staffing.
Later at noon, there will be a swearing-in ceremony for newly elected government officials. They include supervisors Ryan Campbell and Anaiah Kirk, Sheriff Bill Pooley, District Attorney Cassandra Jenecke, County Assessor Kaenan Whitman, Clerk and Auditor Controller Debi Bautista, Tax Collector Justin Birtwhistle, Clerk and Auditor Controller Debi Bautista, and Superintendent of Schools Zachary Abernathy.