Are Lingering Repairs To Big Oak Flat Road Impacting Yosemite Tourism?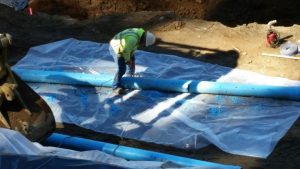 Construction contractors are working to install French drains for drainage control.

View Photos
Yosemite, CA — The closure of Big Oak Flat Road, the extension of Highway 120, in Yosemite National Park has resulted in no access to the valley floor from that entrance since late February.
As reported here, storm damage caused a large crack in the roadway shutting down a section stretching from Crane Flat to the Foresta Junction. Park official report the recent wet weather fueled an underground spring saturating the soil and causing it to slide downhill impacting 200 feet of roadway. Park spokesperson Jamie Richards updates that crews have dug down 50 feet to the spring to place some drains. She explains, "A series of them [drains] are already installed and we're going to be installing more this week, so that all the water that's coming out of that spring and saturating into the hillside has somewhere to go.  It will provide   erosion control and drainage in order to allow a natural flow of water in the underground spring."
Visitors can still access the park via the Big Oak Flat entrance and park officials have offered them an incentive by waiving the fee at that gate. Regarding whether the road closure is hurting tourism numbers, Richards contends, "It is unclear at this time whether were seeing a decline or if visitors are just shifting to other entrances. We are seeing a  lot of visitors coming in and enjoying the Big Oak region of the park, though not as many as we normally would this time of year but we can't really tell if the numbers are just shifting or people are choosing to go elsewhere."
Richards adds there is no estimated date for the road to reopen, but stresses that everyday crews are making progress. The alternate routes into the park are Highway 140 and Highway 41