Special T.U.D. Meeting On Lakewood Park Dam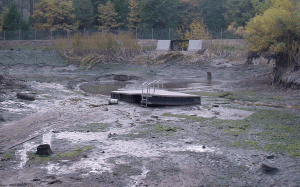 Lakewood Park Dam Is Empty

View Photos
Twain Harte, CA — The Tuolumne Utilities District Board will hear about the current state of the Lakewood Park Dam, and review alternative water sources while it is out of commission.
It will be the lone topic of a special meeting Tuesday at 3pm. We reported earlier that that a section of the dam was removed due to damage that occurred from the significant storms during the second week of February. The lake is utilized by the Lakewood Park Association members for swimming, fishing and other recreation. T.U.D. also utilizes the lake for water supply when PG&E takes its supply canals out of service for planned maintenance. Around five acre ft. of water is needed to satisfy the demands of the Upper Basin Water System during that period. In addition, Lakewood Park Dam can serve as a backup supply in the event of a fire, landslide or other unforeseen event.
T.U.D. has submitted a request of $250,000 from the state Office of Emergency Services to repair the dam, however, a disaster declaration from the Governor has not yet been issued related to damages that occurred during that particular time period.
In the meantime, while that issue is still up in the air, T.U.D. has contacted consultants that specialize in dam design and construction to provide information about environmental permitting and engineering design tasks that will be required. The district staff estimates that the cost of permitting and design alone will be in the neighborhood of $80,000, and that process will likely take, at a minimum, three months.
Given the various uncertainties, there are questions about if the project can be completed by October when PG&E will conduct its next planned maintenance.
In order to meet the needed demand, the district will consider alternatives such as conservation messaging, restoring the Comstack Subsurface Reservoir, maximizing the amount of water to purchase from Twain Harte Community Services District, and several other options.
They will be discussed at Tuesday's meeting that starts at 3pm in the district meeting room.