Tuolumne County Identifies Priority Projects To Address Homelessness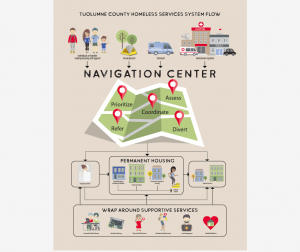 TC Homeless Services System Flow

View Photo
Sonora, CA — There are nine types of projects that Tuolumne County government is prioritizing when it comes to addressing rising homelessness.
It includes things like developing a community toolkit on homelessness, a coordinated entry system for those needing services, and a designated safe parking site for those living out of a vehicle.
The list was submitted by Homeless Services Coordinator Michael Roberson at the request of the board of supervisors, to somewhat serve as a roadmap moving forward. It was approved by the board at the most recent meeting by a vote of 4-0-1 (with supervisor Jaron Brandon abstaining). Some of Brandon's concerns were in relation to limited county staffing and many of the efforts being both new and time intensive.
Other supervisors, like Ryan Campbell, argued, "I view this document as articulating what issues we want to focus on as a county. We certainly don't have the bandwidth to focus on all of them at the same time, but if opportunities come up, we want to make sure that you (Roberson) have some direction about what to do."
The county is hoping that some of the priority projects could be funded by future grant dollars.
Of note, transitional housing, like a once-talked-about pallet shelter community in Jamestown, is on the list, but plans are currently on indefinite hold (pallet shelter) because of the anticipated high operational costs.
You can read the entire priority list, as submitted by Roberson, and approved by the board, below:
Community Toolkit on Homelessness
Homeless people are members of our community and should be extended the same level of consideration as those who are housed. However, every private citizen, business, and property owner deserves to live their lives free of the negative impacts of those living unhoused. A community toolkit will address County policy and practice related to citizen rights, law enforcement efforts and homelessness.
Coordinated Entry
The Coordinated Entry System (CES) is a Continuum of Care (CoC) established system-wide process to quickly and equitably coordinate the Housing & Urban Development (HUD) requirements of access, assessment, prioritization and referrals to housing and services for people experiencing or at imminent risk of homelessness. HHSA staff has been trained and the system is being developed consistent with the programs offered. Other regional service providers input their project information to this system to help create accurate data-driven assessments and reports.
Homeless Management Information System
A Homeless Management Information System (HMIS) is a local information technology system used to collect client-level data and data on the provision of housing and services to homeless individuals and families and persons at risk of homelessness. Each CoC is responsible for selecting an HMIS software solution that complies with HUD's data collection, management, and reporting standards. Regional partners are obligated to use the HMIS system. HMIS is operational in Tuolumne County and is expanding consistent with staff training and program development.
Navigation Center
Navigation Centers are a critical tool in the effort to end homelessness. Navigation Centers provide intensive case management to connect people to the unique care and housing solutions they need. Clients receive personalized support to help address housing barriers such as lack of personal identity documents, employment opportunities, or histories of eviction. If a Navigation Center has a housing component the housing is temporary and low barrier with on-site case management, streamlined access to social services and medical care, and coordinated entry into pathways to permanent housing. Tuolumne County also has a need for a mobile and outreach-oriented component of navigation services.
Transitional Shelter
Transitional shelters are a form of temporary housing that is typically offered with other supportive services for a set period of time and could be a part of a more permanent Navigation Center but with the option for a longer stay.
On August 2, 2022, the Tuolumne County Board of Supervisors approved and directed staff to move forward with development plans for the Safe Stay Shelter off High School Road in Jamestown which would be a low-barrier transitional shelter. Moving forward with development of the Safe Stay Shelter is expensive because of the costs related to operations. It is the recommendation of staff that plans for this project not be further developed at this time.
Safe Parking
A Safe Parking program is intended for adults who are using their vehicles as housing. The Safe Parking program would provide a safe parking environment on County property by permit only with the requirement that the program participant is engaged in a person-centered case management plan to support stabilization and movement toward permanent housing.
Landlord Education & Engagement
Private market landlords are critical partners in the work to help people quickly exit homelessness. Strong connections to landlords are even more important in high-cost, low-vacancy markets, where affordable housing options are limited and even those with a voucher may find themselves unable to locate a unit. Successful landlord partnerships are locally driven and involve ongoing engagement. No single approach is the answer, the unique needs and assets of each community must be considered. Partnership with Amador Tuolumne Community Action Agency (ATCAA), Stanislaus Regional Housing Authority, Tuolumne County Association of Realtors, local property managers and landlords are essential in this effort. Core components should include a housing locator, a housing manager, a centralized housing hotline, housing search assistance, risk mitigation funds for landlords, mediators, subsidies for flexible funds, education classes and landlord recruitment events.
Distributive Housing
Distributive housing is a model that Tuolumne County currently uses through services provided by HHSA staff. Homes designated for specific purposes and distributed around the County could be used for Veteran's, women, families, recovery, recuperation, or support to those with a mental health diagnosis. Tuolumne County has access to funds to purchase residential properties and to offer those properties to individuals who are homeless or as risk of homelessness for both transitional and supportive housing. Shared housing agreements and rent amounts would be fairly structured. For those who need personal or housing supports, services would flow through HHSA and other service providers who serve the homeless. In addition, active participation in a care plan would be required.
Increase in Permanent Housing
Increased capacity for permanent housing in Tuolumne County is paramount to solutions for homelessness. Continued collaboration with SRHA and the Tuolumne County CDD will include coordinated efforts for acquiring grant funds as well as creating partnerships with developers and other stakeholders that are attractional and supportive and that will yield an increase in permanent housing capacity.