The CHP Is Looking For Eyewitnesses To Crash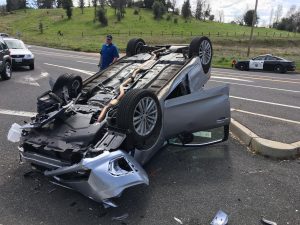 Mono Way and Hess Avenue Crash

View Photos
Sonora, CA — A wreck in Sonora is still under investigation and the public's help is needed to sort it out.
The crash happened on Wednesday around 1:35 p.m. The CHP details that a gray Toyota sedan and a silver Subaru collided at the intersection of Mono Way and Hess Avenue. One of the vehicles as seen in the picture overturned. Luckily, both parties suffered only minor injuries. Officer Faustino Pulido indicates, "We believe one of them ran the red light but both parties involved believe they're in the right."
However, Pulido declined to give any further information on what might have happened or the names of those involved explaining, "It's local people. So, If we give any information on the accident; we don't want somebody to just say, 'Oh, yeah, I know them, that person is right. Let me call in and help them out.' We want independent recollection of the incident."
Anyone with information regarding this traffic collision is asked to please call the Sonora Area CHP Office (209)984-3944.