Update: Winter Storm Warning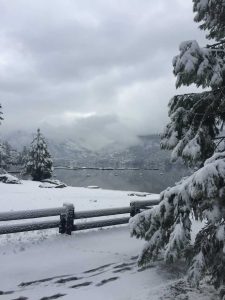 Snow At Pinecrest Lake

View Photo
The Winter Storm Warning issued by the National Weather Service for the west slope of the northern Sierra Nevada, as well as the lower Sierra Nevada of Mariposa County (specifically above 3,000 feet) and Yosemite National Park, remains in effect until 4 AM Monday.
The snow levels will continue to range between 2,500 to 3,500 feet.
One to two inches of snow is possible around 2,500 feet. Four inches to two feet of additional snow accumulation is likely above 3,500 feet. The majority of the snow accumulation will be above 4,000 feet.
Winds are gusting as high as fifty to fifty-five mph. Gusty winds could bring down tree branches and cause extensive tree damage. Near whiteout conditions may continue at times.
Travel remains very difficult to impossible. Chain controls, travel delays and road closures are to be expected.
If you must travel, keep an extra flashlight, food, and water in your vehicle in case of an emergency.