Update: Thoughts From Calaveras County's New CAO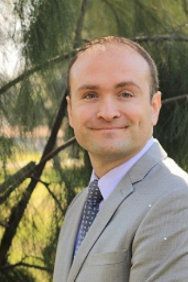 Tim Lutz

View Photos
Update at 3 p.m.: This afternoon the incoming chief administrator for Calaveras County briefly talked with Clarke Broadcasting.
Timothy Lutz, whose official first day as the new chief administrative officer (as earlier reported, below) is slated for April 1st, is clearly anticipating his new role for a number of reasons both professional and personal.
Although he will be keenly missing his wife and two young daughters, ages one and three, while the family is in the process of transitioning their household from Tulare to Calaveras over the next several weeks, Lutz shares that he anticipates logging some quality FaceTime helping to tuck the little ones in on the away nights.
As for his selection from among a half-dozen finalists interviewed for the position, Lutz surmises, "I think, for me, it was stressing not only my long-term goal of wanting to raise my family in the Calaveras area — but also to really become a part of the community and make it a better place."
While Lutz says he is fully aware of many challenges on the horizon that will require hard work, he emphasizes that he will be bringing plenty of enthusiasm and is particularly looking forward to helping the county become more fiscally sound.
As for the county's current issues with its fledgling, possibly potentially short-lived, legal commercial cannabis cultivation industry, Lutz allows that the topic certainly came up over the course of the interview process. "Not so much my opinion as much as concerns for and against," he qualifies.
Certainly, he states, "There is the potential of significant revenue that the county so desperately needs, and at the same time, there is genuine concern as to the safety, on where grows should or could be allowed. While it has been a statewide issue in a lot of counties, I think Calaveras just became one of those early ones where everything it came to a head — in light of the Butte Fire devastation and then a lot of opportunities to come in and start to have a large-scale commercial grow."
Recounting Tulare County's recent, related experience, Lutz shares that its board of supervisors a few months ago passed an initial urgency ordinance not to regulate but, for the time being to prohibit any commercial cultivation in the county. He adds it will obviously need revisiting after all the county's cities have an opportunity to weigh in and the board members have the chance to hear regarding constituents' concerns.
Undoubtedly, the Calaveras supervisors are currently in a very tricky spot, according to Lutz. "From the CAO perspective, my hope is to come in, provide support to the departments and help implement the policy decisions that the board comes to ultimately…regulation — or banning of the cannabis grows."
Original Post at 11 a.m.: San Andreas, CA —  No fooling, come April 1st, Calaveras County will hand over administrative reins to a new chief.
Interim Chief Administrative Officer Manuel Lopez has served in the role since shortly after the retirement of Shirley Ryan last December.
The incoming CAO, Timothy Lutz, most recently served as the director of fiscal operations for Tulare County, with management oversight of its health and human service's $440 million budget as well as the county's offices of emergency and animal services.
In addition to ten years of experience with Tulare County, Lutz brings experience in environmental health, human, social, aging and vets' services, and holds a bachelor's degree in psychology and a master's in business administration from Cal-State Fresno. His annual salary, not including benefits, is listed on the county website at $179,192.
A northern California native, Lutz, who grew up in Pollock Pines, states, "I am tremendously grateful for the support of the Board of Supervisors and am excited to get working on implementing the board's key policies, working to develop a long-term, strong county financial plan and support the needs of the employees and residents of Calaveras County."
Too, he adds, "My family and I are very much looking forward to getting back to the Northern Sierra Nevada mountains with its beautiful small towns and rural character."