Stanislaus National Forest Seeks OHV Grants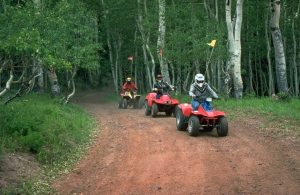 Off-Highway Vehicles Photo courtesy www.nevada-ohv.org

View Photos
Sonora, CA — The public has a chance to weigh in regarding state OHV grant money being sought by the Stanislaus National Forest.
The Stanislaus National Forest is hoping to receive state funding to help fund extra off-highway-vehicle (OHV) projects, forest-wide. They include funds for operation and maintenance of OHV trails and facilities, as well as additional enforcement patrols and visitor education. Forest spokesperson Diana Fredlund says, "The Forest has been working on the applications for some of the grants offered by the state of California, and one of the requirements is that there is a public comment period. That is where members of the public can take a look at the applications and comment if there might be something missing, or something that could be changed a little bit."
Around $30-million is available via the grant program. Public comments can now be submitted through April 3. You can find more details by clicking here. After doing so you can find details about the proposed projects by searching for the Stanislaus National Forest in the agency box.