MTMC Awards Over $31,000 In Community Grants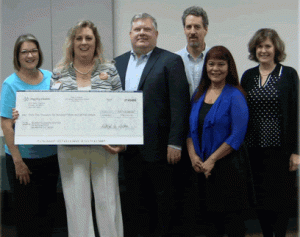 MTMC Community Grant Awards

View Photos
San Andreas, CA — A handful of local non-profit organizations have received extra funding thanks to Mark Twain Medical Center's community grant program.
This year's honorees will be collaborating together under a project called, "Healthy Seniors Now." The organizations provide services related to things like providing free educational events, meals, exercise programs, in-home support, mental and physical disabilities programs, etc.
A combined $31,000 will be split between the Murphys Senior Center, Common Ground Senior Services, Calaveras County Behavioral Health, Area 12 Agency of Aging and the Calaveras County Senior Center.
MTMC CEO Bob Diehl says, "This year we are pleased to award these organizations this opportunity to align with our core community health principles. This program for many of our senior population will allow us to focus on disproportionate unmet health-related needs of our community, with an emphasis on our senior population. The focus for this program will be on primary prevention and addressing underlying causes of health problems."
The organizations were recognized at a special luncheon held late last month.