Update: DWR's Third Snowpack Reading Close To Record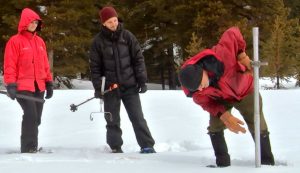 DWR conducting February Snowpack reading

View Photos
Update at 2:21 p.m.: What a difference a year can make, as California's Department of Water Resources report after taking the March 1st Sierra snowpack measurements.
DWR shares that the water content within the snowpack measured in at 185 percent of normal for the date. Just a year ago, as the state was still acutely feeling the effects of an extreme five-year drought, it came in at 84 percent of normal.
According to Frank Gehrke, the chief snow surveyor, in some places the snowpack is near record-setting levels last seen in 1983. State climatologist Michael Anderson says the current levels are historic, especially for the central and southern Sierra Nevada, where double the normal amount of snow has fallen so far. Both regions are currently tracking very close to the benchmark snowpack record.
Today's manual survey at the Phillips Station snow course came in at 179 percent of average for the date, with 43 inches of water content, which was 13 inches short of the record for that station. Located about 90 miles east of Sacramento in El Dorado County, Phillips has been measured for the past 76 winters; famously back in April 2015, when Governor Jerry Brown accompanied the surveyors and used the snowless field as a backdrop to publicly order his first drought-related water restrictions.
It is one of literally, hundreds of locations surveyed by hand and with digital monitors to determine how much water the snowpack will provide as it melts away into California's reservoirs.
Overall, officials say that today's readings continue to bode well — certainly for a much longer runoff period since the drought — and good surface water supplies into the spring and summer.
Original Post at 10:02 a.m.: Sacramento, CA – State water managers will once again head into the Sierra Nevada Mountains to manually measure California's snowpack, which has been "looking good' so far.
Department of Water Resources officials say the state is on track for one of the wettest winters on record after five long years of drought, including two of the driest in the state's recorded history.
Electronic monitors on Tuesday showed the snowpack sitting at 186 percent of normal for this time of year.  DWR spokesperson Doug Carlson says, "The winter's historic snow and rainfall has not been seen in California for decades." He adds that at the southern end of the mountain range there is more than double the normal amount of snow piled up on the highest peaks.
The snowpack is vital as it provides one-third of the state's water to homes and farms when it melts in the warm months. We will update this story as soon as the manual reading figures are released by DWR.
(Click here for details on February's reading.)