Traffic Alert In Columbia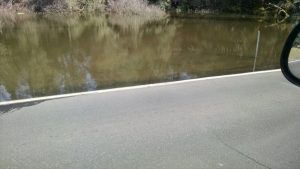 Parrotts Ferry Road flooding Friday (2-24-17)

View Photos
Columbia, CA – Rising waters along Parrotts Ferry Road in Columbia could cause continued flooding problems.
As can be seen in the pictures in the image box, water was close to washing over the roadway once again and backed up of traffic on the evening commute Friday.
Tuesday the road was closed between Union Hill and Sawmill Flat roads after heavy rains caused flooding. As reported here, fire trucks used hoses to pump the pooled water and create a man-made pond between Union Hill and Highway 49 allowing the roadway to reopen on Thursday.
County Deputy Director of Roads Duke York reported that nearly 1.5 million gallons of water was pumped out of the area to get the water level down.  However, Friday's pictures show the water was inching its way to the edge of the roadway, dangerously close to over flowing again. York reports road crews will continue to monitor this section of Parrotts Ferry Road throughout the weekend for any possible travel troubles.