One Heavily Traveled Road Opens, While Another Is Shutdown In Tuolumne County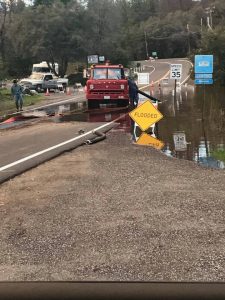 Fire truck pumping flood waters from Parrotts Ferry Road

View Photos
Columbia, CA – Parrotts Ferry has reopened but Old Priest Grade has closed due to the wintry weather – and travel could be halted through the night.
Using fire trucks, Tuolumne County road crews were able to pump water from the recent heavy rains that had flooded Parrotts Ferry Road on Tuesday closing it down between Union Hill and Sawmill Flat roads. Hoses carried the water to an area along Union Hill and Highway 49, which created a makeshift pond.
County Deputy Director of Roads Duke York reports that at one point the water was anywhere from 18 to almost 24 inches deep across the roadway. He adds, "We were pumping 1,500 gallons a minute for 17 hours. If you do the math on that, you come out at 1.5 million gallons that were pumped out of that area to get the water level down below the road. It's far enough down that when we get this next storm over the weekend, we have enough capacity in the pond that we don't have to worry about it crossing over the road again."
Additionally, the county has closed Old Priest Grade due to winter conditions. A crew will be checking periodically throughout the afternoon to determine whether to re-open the roadway or keep it closed overnight, according to county road officials.