Sonora Man Eluding Police Finds Trouble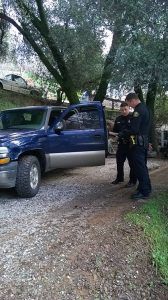 Fowler Arrest, Vehicle Impoundment, Sonora Police

View Photos
Sonora, CA — An attempt to evade police in his pickup did not end well for a local man.
Sonora Police report that over the weekend they tried to pull over the driver of a Chevy truck on West Jackson Street for an expired registration. Instead of yielding, the driver led officers on a short pursuit that led to Upper Sunset Drive.
When the man, subsequently identified as Paul Fowler, attempted to exit the vehicle, police describe him as being repeatedly non-compliant and instructed him at gunpoint to stay put in the cab. Fowler reportedly told them that the reason he avoided the traffic stop was because he was driving with a suspended license.
In addition with being arrested for driving with a license suspended for a DUI and the expired registration, Fowler now faces charges of failure to install an interlock device as well as evading and obstructing a peace officer. His vehicle was additionally impounded and placed on a 30-day hold.