Lost Cross Country Skiers Located Near Pinecrest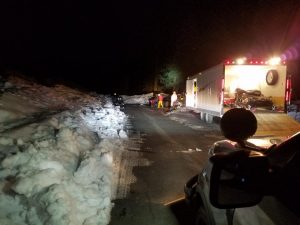 Snowmobiles Used To Help Locate Cross Country Skiers

View Photos
Two Bay Area residents were safely located after getting disoriented near Pinecrest.
The Tuolumne County Sheriff's Office reports that Amy Baron of Oakland and Leila Moinpour of Belmont were cross country skiing on Saturday. At 7:30pm, a concerned citizen notified the Sheriff's Office that the women were seen near Crabtree Trailhead, and the caller was concerned because one of them lost a ski in the creek and was having trouble walking in the snow. A deputy responded to the area and located their vehicle parked at the trailhead. One of the missing women then contacted the Sheriff's Office dispatch to report that they were unable to locate the trailhead and were having trouble making their way back.
The Search and Rescue Team, along with Pinecrest Fire, were notified. The Pinecrest Fire Department deployed their snowmobiles and quickly located the women, as well as their small dog Zoro. Everyone was in good condition and no medical attention was needed. The women and the dog were then escorted to their vehicle.