Curtis Creek Students Return To School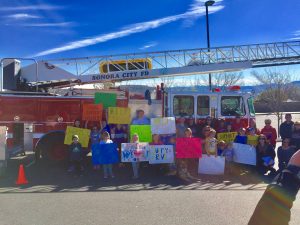 Support For Curtis Creek Elementary

View Photos
Sonora, CA — Curtis Creek Students returned to school today after a fire that burned nine classrooms and forced a temporary closure of the Elementary School. The fire was contained to the A-wing which, due to a recent winter storm-related mudslide, had already lost the use of four classrooms. A total of 13 classrooms of pre-kindergarten up to third grade students have been displaced.
According to Curtis Creek School District Superintendent Sharon Johnson Music, Band, science and even the board room have been set up with temporary classrooms. The teachers "worked all weekend, or the last few days,  to get their new classrooms set up until they can get the portables. The classrooms all look adorable, they all look like classrooms, all set up, and filled with happy students!" Johnson says there is no estimate on how long repairs or rebuilding the damaged classrooms will take.
Superintendent Johnson says the first day back went very well, "Even in the pouring rain everyone was cooperative, and friendly, they listened to the messages [regarding parking and drop-offs.] I did have all staff out to assist and to greet the parents and all the students. Students looked very excited to be back in school of course. It went very smooth this morning!"
The board has already ordered 10 to 11 portable classrooms that are expected to arrive in the next few weeks. Those will help return the students to a relative sense of normalcy, as school officials work to determine what to do with the rest of the building.
The school contains a total of 31 classrooms and around 450 students currently.
An outpouring of support to fund repairs for the school continues. Sonora Elementary, Twain Harte, Foothill Leadership Academy, Black Oak Casino Resort and Columbia have already donated to help, and several other fundraisers are planned and posted in our events calendar.
The district notes that a Go Fund Me account has been set up to help purchase needed supplies. You can find it by clicking here. The school has been collecting monetary donations, gift cards and supplies for pre-kindergarten through 3rd grade classrooms. Items can be dropped off at the district main office from 8am-2pm, Monday through Friday.
The news story about the electrical fire and damage on campus resulting from a recent mudslide is here.