Slick New Scam Uses Victims' Personal ID Info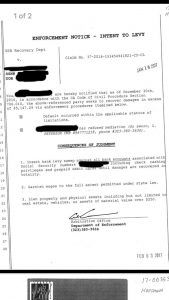 Scam letter sent to a local resident using the intended victim's personal information.

View Photos
Sonora, CA — Local law enforcement officials have turned up evidence in the Mother Lode of what appears to be a disturbing new scam.
Sgt. Andrea Benson of the Tuolumne County Sheriff's Department warns residents that a Sonora woman recently received a communication, purportedly from the USB Recovery Department stating she owed $5,147.27.
Further describing the mailing, Sgt. Benson states it gave off the appearance of originating from an "Office of Registrar, General Accounting Office, Records Division." It also appeared to contain an official-looking court document listing the debt.
Even more eerie — the document contained personal data, including the woman's correct date of birth and Social Security Number. Immediately wary because she knew she did not owe the money, the woman reportedly did an internet search and was able to determine that the communication was an apparent scam.
An image of the mailing is being made publicly available by the sheriff's department (viewable by clicking the upper left image box). Sgt. Benson further describes that it was printed on linen style paper and had the appearance of a court-filed document although it was missing a court stamp. She adds that the envelope it arrived in carried a Phoenix AZ postmark.
Providing another sketchy detail, Sgt. Benson confides, "When the deputy called the number listed on the letter, it went to a voicemail message asking that a case number be left and the call would be returned."
"If you are faced with a situation as this and know you do not have any outstanding debts, do some research. Do not give out any personal or account information," Sgt. Benson emphasizes. "Contact a credit reporting bureau and lock your credit in case attempts are made to open any credit in your name."
Along with sharing information about this latest way to separate people from their money, sheriff's officials recommend those who receive mailings like this to notify their bank of the situation and also take pains to check on any possible fraudulent activity. If fraud has occurred, residents are urged to contact local law enforcement to make a report and document the incident.