Caltrans Crews Back This Week Beginning Sunday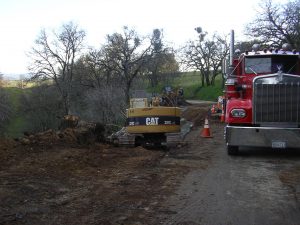 HWY 26 Caltrans storm repairs

View Photos
Sonora, CA – More highway repairs due to January's storms will impact travel on Mother Lode roadways before weekend's end.
Beginning Sunday, utility crews working along Highway 4 may generate ten-minute travel delays between Upper Moran Road and Big Trees State Park. Their work is scheduled to continue every day through Friday from 9 a.m. until 5 p.m. Come Monday tree work resuming between Batten Road in Vallecito and Meko Drive in Camp Connell will create similar impacts from 6:30 a.m. until 5:30 p.m.
Caltrans anticipates that Highway 26 west of Mokelumne Hill will remain closed to traffic between Paloma Road and Campo Seco Turnpike at least through Thursday. Officials say inclement weather and cold temperatures are contributing factors in completing the necessary repairs to that stretch of storm-crumbled road.
They add that detours are in place and motorists should anticipate 20 minute delays. Alternate routes are as follows: for eastbound travel, use Highway 12 towards San Andreas then Highway 49 north towards Jackson; westbound, take Highway 49 south to San Andreas, then Highway 12 west toward Valley Springs.
Also on Highway 26 post-storm slope repairs continue between Gill Haven Drive and Rich Gulch lane every weekday from 7 a.m. until 5 p.m., which may set travelers back ten minutes or so.
Tuolumne County Traffic Impacts
As the weekend ends, so does 24-hour access to the Highway 120 James E. Roberts Bridge adjacent to Lake Don Pedro. Sunday through Thursday, as weather permits crews to continue ongoing renovations, the bridge will be closed between 5 p.m. and 7 a.m. Daily the bridge is accessible under one-way traffic controls that typically cause ten-minute waits.
Every weekday along Highway 49 between Highway 120 and Bear Valley Road drainage work is slated from 8 a.m. until 4 p.m., generating momentary traffic stops.
Remember, too, that due to the Orient Express Run Saturday (Feb. 4), Caltrans will be temporarily conducting a full highway closure of Highway 120 between Simms and Red Hill roads from 10 to 11 a.m.