Angels Camp Police Seeks Information About Man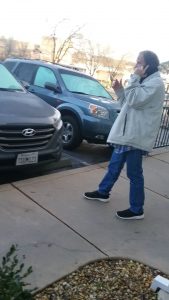 Man wanted for questioning in Angels Camp

View Photos
Angels Camp, CA — The Angels Camp Police Department is requesting information from the public about a man that allegedly approached a high school student and offered to share his hotel room.
The PD reports that the man allegedly approached a student on Monday, asked if the juvenile was homeless, and offered to share his hotel room with the juvenile.
The juvenile declined the offer and reported the incident to a parent.
The police department obtained a photograph of the unknown adult (shown in image box) from the parent, and officials confirmed that he stayed at the Best Western on South Main Street this past Monday. The PD reports that the male has not been formally identified.
The Police Department is asking for anyone with information about the man to call the Police Department at 209-754-6500 so that he can be identified. In addition, the PD says children should be advised to call 911 immediately if approached and questioned in the manner described above.
No further information is immediately available.