Lola's Ladies: 1930's Fashions Adult Coloring Book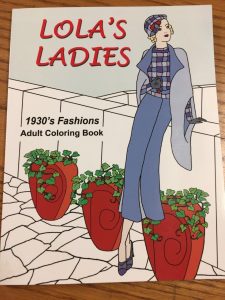 Lola's Ladies

View Photos
Mary E Weber and Vicki L Vermeer are two sisters who have created their first ever "adult coloring book" and the sales have been great.
Vermeer is a local resident and was Wednesday's KVML "Newsmaker of the Day".
The coloring book features their mother's actual fashion drawings from the 1930's.
Their mother, Lolita (Lola) Edith Mayer, lived in Oakland, CA. Lola began expressing her love for art the first moment she held a pencil. Lola and her two younger sisters, Irene and Ruth, sat for hours after school and on weekends drawing. Lola loved designing and sewing clothing. She won a scholarship to Madame Lucille's School of Design where she refined her dress designing talent. Lola learned the practical and whimsical sides of fashion. Not only were the dress lines important but also incorporating the practical side of zippers and buttons. Lola's world was influenced by Art Deco. Her designs reflect that influence with fashions of soft flowing lines and those of a sculptured tailored look. Lola's love of art continued throughout her life.
Vermeer and Weber discovered forty-four illustrations of 1930's vintage fashions, as drawn by their mother. They came up with the idea of putting together an adult coloring book as they jumped on the beginning of a fairly new contemporary trend in books.
Lola's fashions, as found in the book, reflect the luxury and glamour of the Art Deco style of design and form. Art Deco was a period in history that embraced exotic styles, bold geometric forms, sleek curving lines and smooth polished surfaces. It was a period of inspiration for Lola in designing fashionable ladies dresses, hats and accessories. The charm of these fashions is timeless and lovely for many to behold. Hand-drawn, each page in this coloring book is an original work of art.
This is Vermeer's and Weber's first book and the local bookstores can't keep it in stock.
According to Vermeer, "Each coloring page is printed on a separate sheet. The coloring pages are 8.5″ x 11″. Five pages in the back can be used to avoid bleed through. All ages and varying artistic talents will enjoy coloring these pages. Using different coloring mediums such as crayons, pencils, chalk, colored ink pens or pastels, you can put your personal touch to each drawing. This book allows the users to escape into a world of inspiration, relaxation and stress reduction. Anyone can create a frameable work of art to display. You may also want to frame one of your colored drawings as a gift for a special person."
Lola's Ladies: 1930's Fashions Adult Coloring Book can be found locally for $9.95 at Mountain Bookshop in Sonora and online at Amazon.
The "Newsmaker of the Day" is heard every weekday morning at 6:45, 7:45 and 8:45 on AM 1450 and FM 102.7 KVML.