CCWD Completes Emergency Repairs In Arnold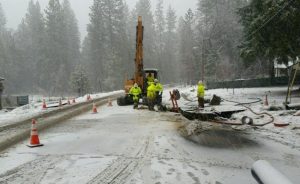 Arnold CCWD Project

View Photos
Arnold, CA — Water service is back to normal in the Arnold area following an emergency storm related project conducted by the Calaveras County Water District.
We reported earlier that last week's storm system caused Big Trees Creek in White Pines to flood and it resulted in damage to Blagen Road. It also exposed a portion of an old water transmission pipeline that serves Arnold. The solution was to tie the vulnerable line into a new pipeline project.
CCWD Spokesperson Joel Metzger says, "The great news is that we successfully tied in the new section of transmission pipeline that allows us to take the old line out of service. The one thing that customers need to keep in mind is that when we do have these construction projects sometimes it dislodges the mineral buildup on the inside of the transmission pipeline, and that can cause water to become slightly discolored."
Metzger says customers experiencing this problem can open an outside faucet to flush the personal plumbing, and it should run clear after a few minutes. Crews are also going through the neighborhoods today to flush hydrants in order to eliminate the discoloration.