Phone App Locates Alleged Vehicle Thief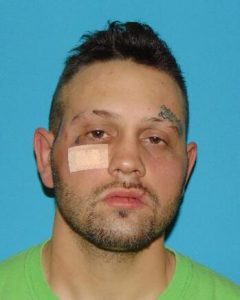 Jesse Craver Newton, TCSO Booking Photo

View Photos
Sonora, CA — A truck theft from a Jamestown gas station resulted in a suspect's arrest after the victim and a friend were able to track him down using a phone-finding app.
Tuolumne County Sheriff's spokesperson Sgt. Andrea Benson states that just before 9:30 Saturday morning, a few short hours after a pickup truck was reported stolen from Chip's Chevron on Highway 108, deputies were dispatched to a physical fight on Highway 108 near Woods Way.
"Jesse Newton, a suspect in a stolen vehicle reported to CHP that morning, was located by the owner of the vehicle," Sgt. Benson states. Continuing, she recounts, "The victim and his friend caught up with Newton, who was walking and carrying the victim's black bag. While the victim went to get a cell phone to call law enforcement, Newton retrieved a pair of metal knuckles and struck the friend in the back of the head. The friend then punched Newton and held him on the ground until law enforcement arrived."
When deputies arrived on scene, Benson says they searched Newton and located the victim's wallet and Apple iPhone in his pocket. "Prior to booking into the Tuolumne County Jail, Newton was found to be in possession of methamphetamine and a methamphetamine smoking pipe he had hidden in his sock," she adds.
Newton, whose bond was set at $90,000, now faces charges relating to possession of stolen property, metal knuckles and drugs; assault with a deadly weapon; also for two outstanding probation violation warrants and post release community supervision.