CHP Helps Cowboys With Rawhide Road Roundup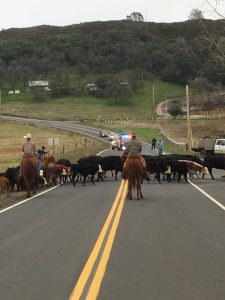 Cowboys, cattle and police cruisers moving along Rawhide Rd. early Monday, Jan. 16, 2017

View Photos
Jamestown, CA – Those off this morning due to the Martin Luther King, Jr. holiday may well have missed a brief spectacle along Rawhide Road caused by cattle, cowboys and CHP police cruisers.
As CHP Sonora Unit spokesperson Pulido Faustino explains, "The CHP was requested to help move about 50 head of cattle from a nearby ranch to the Sheriff's Posse grounds — the stalls where they had the cattle were too muddy from the recent rains and they could not load them up there."
The activity, which occurred around 8:30 a.m. and created a momentary traffic delay, warranted a few photos that the CHP wryly shared on social media. Not that the impromptu parade of livestock, wranglers and flashing police cars was that unusual, according to Faustino. "We help at least a couple of times a year at cattle crossings," he shares. Chuckling, the adds "We were just helping with the traffic — the cowboys did all the hard work."
To view CHP photos of the morning roundup, click in the left image box.