California's Tree Mortality Crisis Heightened By Trimmer's Fatalities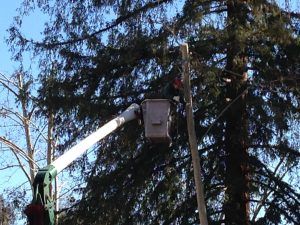 Tree trimming worker

View Photos
Sacramento, CA — Cal/OSHA is investigating the recent deaths of four tree trimming workers in the state – one in Mariposa County.
The fatalities happened over the past six weeks sparking an investigations and a statewide safety awareness campaign for tree service companies, landscapers and other businesses to take precautions to avoid accidents. The department provided this list and details regarding the four tree-trimming deaths:
A worker in Mariposa County who was struck by a branch on December 1
A worker in San Bernardino County who suffocated when dry palm fronds collapsed and trapped him on December 4
A worker in Los Angeles County who fell approximately 60 feet when the branch he was tethered to broke on January 6
A worker in Siskiyou County who was struck by the tree he was cutting to clear power lines on January 9
Cal/OSHA Chief Juliann Sum warned, "Employers in this high-risk industry need to be aware of, and take steps to minimize, the hazards to their workers. We will cite employers that are not in compliance with safety requirements."
In the two-year span between October 2014 and September 2016, the department investigated nearly 70 tree worker accidents, including trimming and removal services. Nearly three out of four of these accidents ended with a worker being hospitalize, while tragically twelve resulted in the deaths.