Iconic "Tunnel Tree" Falls In Calaveras Big Trees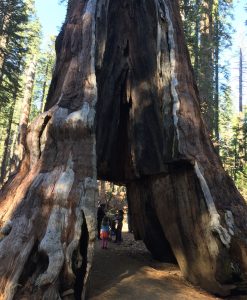 Pioneer Cabin Tree

View Photos
Arnold, CA — The Calaveras Big Trees Association says that a famous tree is unfortunately a victim of the storm.
The Pioneer Cabin Tree, known to many visitors as simply the "tunnel tree," has fallen to the ground. The association announced the sad news via social media this evening, stating that it has "enchanted many visitors," but "the storm was just too much for it." Click on the upper left hand box to see an image of the downed giant sequoia. It was arguably the most popular attraction at Calaveras Big Trees State Park as visitors traditionally enjoyed walking through it.
The Calaveras Big Trees Association is the official non-profit arm of the park that raises money for interpretive education programs and activities.
More information about Big Trees State Park is in our Destination Guide.