Longtime ATCAA Leader Hance Retiring: New Executive Director Selected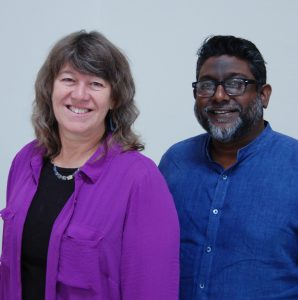 Shelly Hance and Raj Rambob

View Photos
Sonora, CA — Amador-Tuolumne Community Action Agency (ATCAA) Executive Director Shelly Hance is retiring at the end of the year and her replacement has been announced.
Hance spent 35 years with ATCAA. She became Executive Director in 1991 following the departure of ATCAA's Founding Executive Director Rick Breeze-Martin. Hance says, "It has been an honor and a privilege to serve the community and work with such a dedicated staff and board. We live in a very caring and giving community where people work together to help one another. I got to see this daily with ATCAA."
The Tuolumne County Board of Supervisors gave Hance a special proclamation at today's board meeting. Chairman Karl Rodefer said, "Under her leadership, ATCAA grew from something very, very small, to something very wonderful." All five of the supervisors offered Hance praise for her leadership and stressed the importance of agency in the community.
Effective January 1st, Rajeev (Raj) Rambob will step into the leadership role.  He began with ATCAA this past September as the Introductory Executive for Orientation. His background includes serving as a non-profit Executive Director, primarily in the area of homelessness, in both El Dorado and San Mateo counties. He also served as the Executive Director of a healthcare workforce development program in Oregon which covered six southwestern counties. He holds a Master's Degree in Community Leadership and a Bachelor's Degree in Counseling Psychology.
Rambob says, "I am thrilled to be part of an organization that serves the community in meaningful ways. Listening to each other and collaborating solves many problems and ATCAA has been doing this for many years. It is an honor to be part of a committed and capable team."
ATCAA was formed in 1981 as a public entity through a joint powers agreement between Tuolumne and Amador counties. Its current programs include Early/Head Start, Family Learning Center, Latino Family Outreach, Homeless and Housing Services, Energy and Water Conservation Services, Foodbank, Mentoring Works, Friday Night Live, Suicide Prevention, Youth/Mental Health First Aid, Yes Partnership and Smart Money budget and tax assistance.