McClintock Has Fresh Optimism As President Signs Water Bill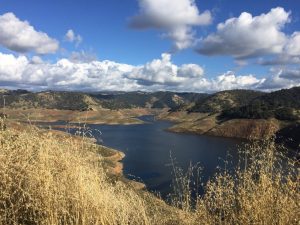 New Melones Reservoir

View Photos
Washington, DC — Congressman Tom McClintock broke the news to Clarke Broadcasting that President Obama has signed high profile federal water legislation that will impact the region.
We reported last week that a $588-million package passed in both the House and Senate, but it was unclear if the President would place his signature on it. It was supported by Democrat Senator Dianne Feinstein but opposed by Barbara Boxer.
McClintock says, "There are pretty important changes in this water bill that was just signed, and among them is added flexibility to manage the New Melones Reservoir. It means we will be able to store more water in it for beneficial human use."
It also has $335-million in the bill to start construction of new reservoirs. McClintock points out that California has not built a major reservoir since New Melones in the 1970's. The Congressman adds, "It expedites approval of new water projects, it updates flood control criteria so that we do not have to reduce all the water unnecessarily from our dams that we do for flood control purposes. And, it begins to add some degree of common sense to the environmental laws that have forced huge releases of water from the dams, even in the middle of the drought.
McClintock goes on to point out, "One of the things that I've been pushing for years, and we finally got in this bill, is language that pushes for new fish hatcheries to meet ESA requirements for endangered species. So instead of releasing millions of acre feet of water a year for environmental purposes, we'll be able to meet the ESA criteria by adding fish hatcheries that can produce millions of smolts in a single year."
McClintock also touts changes that will come to forest management. There is a provision that only applies to the Lake Tahoe Basin, but McClintock believes it will "quickly spread to general policy." He explains, "It says that in thinning operations of 3,000 acres, you can bypass the multimillion dollar, multiyear, environmental studies that have made forest management cost prohibitive. Forest managers will be able to go in and take out the excess timber, before it burns, and that better guarantees healthy and resilient forests."
Reflecting on the package as a whole, he says, "It is a big step forward. It has a lot of ground breaking provisions that by themselves are not going to solve our problems, but have now laid the groundwork for legislation in the next session where we can build upon these reforms to save our forests and deliver a new generation of water abundance to the people of California."