What Makes Sonora High School…Sonora High School?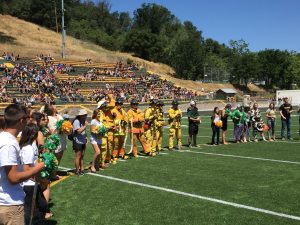 Sonora High School - Archive Photo

View Photos
Sonora, CA — At a meeting on Thursday evening the Sonora High School Board of Trustees will solicit public opinion about the development of a fiscal recovery plan.
As for the point of the meeting, Sonora High Superintendent Pat Chabot says, "We're trying to find out what makes Sonora High School, 'Sonora High School.' What makes it unique that we definitely need to keep and what are the non-negotiables for our community, for our staff, and for our school."
We reported previously that Sonora High faces a structural deficit, and is currently projected to drain all of its reserve funds within a three year period. The district has been spending more money than it receives, and over the three year span it must find a way to cut around $1.3 million. A budget plan must be submitted to the Tuolumne County Office of Education by December 15. Chabot notes, "We're looking at basically everything, and we're trying to figure out where we can make cuts, and trying to keep them as far away from the classrooms as we possibly can."
A task force is working to put together the plan. Chabot says the group is talking to the unions to see where reductions are possible. Through employment agreements, certificated staff cannot be released until the end of the school year, but classified staff could potentially be reduced in the short-term.
We reported earlier that a state Fiscal Crisis Management Assistance team pointed to career technology programs as being one of the notable areas where the district spends more money than it receives in state funding. Sonora High is recognized for having very strong programs for career studies like fire science, agriculture, culinary arts, cosmetology, etc.
Indicating that various potential cuts are on the table, Chabot adds, "You know we have four counselors on our staff and most other high schools don't have counselors. We have a career guidance technician, we have a library technician, and we have an on-staff nurse that helps our students. Whatever reductions are made, we still want to make sure we support as many students as best as we can."
Thursday's meeting, where the community can give public input, starts at 6pm in the Sonora High School library.