Governor Pushed Measure Defeat And Got It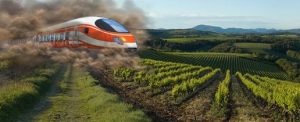 High-speed rail

View Photos
Sacramento, CA — California voters backed up the Governor Jerry Brown's pleas to squash a ballot that could threatened two of his megaprojects.
On Tuesday, returns showed the measure was losing by a 51-to-49 percent margin spelling defeat for Proposition 53, which would have required state-wide votes on projects costing $2 billion or more in revenue bonds. California's Legislative Analyst's Office said the only two projects the measure would likely impact were Brown's $64 billion in high-speed rail and $15.7 billion Delta tunnel proposals. Brown campaigned against the measure heavily in the last week before the Nov. election contended the measure could cut local control of projects.
The ballot's backer was Central Valley farmer and canner Dean "Dino" Cortopassi, who called state revenue bonds for big projects "cockroach debt" arguing there should be voter oversight. The Stockton farmer spent only about $1 million promoting Prop 53, while Brown and the state Democratic Party pitched in $23 million against its passage.