Ballot Counting Continues For Local Election Officials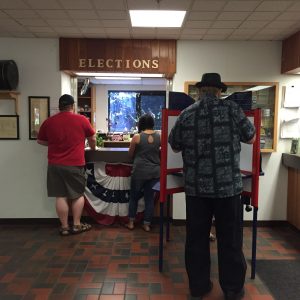 Tuolumne County voters

View Photos
The mail-in ballots keep coming in for the Mother Lode as workers feverishly tally the votes from Tuesday's election. In Tuolumne County, nearly 200 ballots arrived in the mail on Wednesday. Country Clerk Debbie Bautista updates, "There's probably darn near close to 4,000 to 5,000 vote-by-mail ballots that will be in the next count and that included the 2,500-ish that was dropped off at all the polling places. Additionally, somewhere probably around 1,300 provisional ballots."
In Calaveras County, the numbers stack up this way, according to Clerk Recorder Rebecca Turner, who states, "We have roughly 3,500 outstanding vote-by-mails to process now. We have roughly 900 provisional ballots throughout the county to process."
Mail-in ballots will continue to come in through Monday. Both offices say they hope to have those votes counted by early next week.
Of note, in some of the key races, Bautista does not believe the additional ballots will change the outcome projected for Measure K , which is related to affordable housing, as it is up by 800 yes votes. Turner also reports these ballots are not likely to change the outcome of the recall of District Five Supervisor Steve Kearney where so far 61% of voters approve of his ousting. If the numbers hold up for Clyde Clapp, he has been tapped by 34% of the voters to replace Kearney.
You can find more results, including school and special district races, in the Election Section of myMotherLode.com.