"Ballot Selfies" Still Banned In State For Nov. 8th Election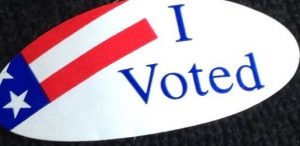 I voted sticker

View Photos
San Francisco, CA – A federal judge has struck down an ACLU lawsuit seeking to allow marked "ballot selfies" citing it's too late in the game to change California's ban on ballot photos.
During a hearing on the matter Wednesday, U.S. District Court Judge William Alsup ruled that any changes so far along in the election process would create confusion. The American Civil Liberties Union filed the lawsuit arguing that California's ban on sharing photographs of marked ballots violates voters' First Amendment right to freedom of speech by preventing them from expressing their political views. The group wanted an injunction that would block the state from enforcing the ban on so-called "ballot selfies."
California's Secretary of State Alex Padilla had this reaction to the ruling, "As Secretary of State, I have made it my mission to encourage participation in our elections and I appreciate Californians' desire to show their civic pride in casting a ballot. However, the ruling means that "ballot selfies" are not authorized for the November 8, 2016 General Election."
Earlier this year Governor Jerry Brown signed AB 1494 into law, which will permit "ballot selfies" but it does not go into effect until January first of next year. Padilla notes that voters can still take a "selfie" with their 'I Voted' sticker. Additionally, smartphones can be used at the polls to access a voter's sample ballot or notes they have made about candidates and ballot measures.