Update: One Mountain Pass Closed Another To Shut down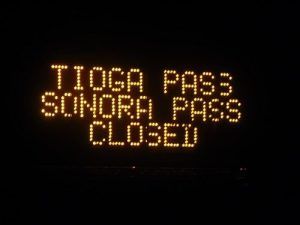 Passes Closed

View Photos
Update at 12:20 p.m.: Yosemite National Park spokesperson Jamie Richards had originally announced below that Highway 120 Tioga Pass would shut down Saturday at 3 p.m. However, with the weather conditions changing rapidly it has forced the closure of Tioga Pass. Richards states, "Current winter storm activity has created hazardous driving conditions along Tioga Pass. Yosemite National Park has closed the pass from Crane Flat to Lee Vining. This closure will be in place until further notice." Richards also notes that Glacier Point Road at 5:00 is still scheduled to close at 5 p.m. Saturday. (Details on the other Mountain Passes are below.)
Original post at 12:57 p.m.: Another round of wet stormy weather from Mother Nature has Caltrans and Yosemite shutting down passes this weekend.
Due to a colder second storm system anticipated to move into the Mother Lode late in the weekend two of the Mountain Passes will be off limits to travelers. Highway 120 Tioga Pass will close at 3 p.m. Saturday  and Glacier Point Road at 5:00 p.m., according to Yosemite National Park spokesperson Jamie Richards, who adds, "The forecast is currently showing about 18 inches of snow falling in the higher country. So, the roadway will be closed upon further notice depending on what the weather brings in."
Caltrans has also announced that Highway 108 Sonora Pass will close Saturday at 4 p.m. There is no word yet from Caltrans regarding High 4 Ebbetts Pass.