Update: New Information On HWY49 Chase And Crash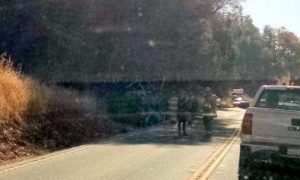 Big Rig accident during high speed chase

View Photos
Update at 5:15 p.m.: While one-way traffic control remains in effect on Highway 49 due to crews cleaning up lime ash that was spilled from a big rig truck involved in a crash during the high-speed chase on Highway 4 and 49, the CHP has released the names of those involved.  In custody is Zachary Gomez ,38, a transient charged with possession of a stolen vehicle, evading arrest, felony DUI and hit and run.
The CHP reports the chase began after another driver on Highway 4 noticed an SUV  traveling behind her in Arnold as a stolen 2005 Honda CRV reported in an alert sent out by law enforcement and called 911. Minutes later, an officer spotted Gomez driving the SUV in the Hathaway Pines area and tried to make a traffic stop. Gomez took off. Once in Angels Camp he turned onto Highway 49 towards San Andreas. It was north of Carol Kennedy Road that the CHP says Gomez tried to pass a big rig driven by Salvador Lopez, 61,  of Esparto and swerved too sharply, sideswiping the truck. Lopez lost control of the big rig and it overturned partially blocking the northbound lane of the highway and spilling 50,000 pounds of inert agricultural limestone over the roadway. Officer Rebecca Myers states, "The spill was contained and was not a danger to the waterways. OES (Office of Emergency Services) was called to the scene to assist with the spill."
Gomez kept going until the damaged SUV's engine stalled near the Cement Bridge. Myers indicates Gomez tried to take off on foot and a tazer had to be used by an officer to stop him. Lopez sustained major injuries in the crash and was taken to Mark Twain Medical Center. Gomez was not injured. Myers notes that Gomez is also a suspect in a West Point home invasion and car jacking, which is under investigation by the Calaveras County Sheriff's Department.
Highway 49 has been down to one-lane traffic for more than seven hours and Myers expects that to continue into the night. Motorists are advised to take an alternative route if possible.
Original post at 12:23 p.m.: San Andreas, CA — The CHP reports that there is one-way traffic control on Highway 49 near Carol Kennedy Road in the San Andreas area.
Limited information is currently available, but the CHP reports that it is in relation to a high speed chase that occurred earlier this morning. It originated near Highway 4 in Hathaway Pines and then proceeded onto Highway 49 in Angels Camp, and eventually towards San Andreas. A big rig truck, which was reportedly in the wrong place at the wrong time due to the chase, overturned. Cleanup is underway due to that incident. The driver involved in the chase (not the big rig driver) was apprehended at some point. There was also an Angels Camp PD vehicle that was damaged, after reportedly colliding with a vehicle during the chase, but no injuries were reported from that particular incident. It is anticipated that there will be slow and go traffic on Highway 49 near Carol Kennedy Road for the next couple of hours.