Bell Fire Containment Grows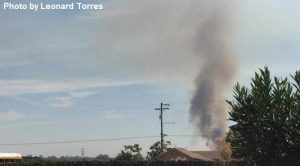 Bell Fire in Amador County

View Photos
Plymouth, CA — Fire crews made progress overnight on the Bell Fire as the flames continue to burn for a second day in Amador County along Highway 49.
Cal Fire reports the containment has grown to 75% and the acreage is holding at 45. Columbia aircraft and several local engines assisted in battling the blaze off the highway and Bell Road in Plymouth yesterday afternoon. Cal Fire Amador County Unit spokesperson Robert Little reports, "We don't anticipate any help from air forces today but as the day heats up if focused bucket drops or hot spots erupt Columbia aircraft could be called back to the fire to assist."
The fire broke out just after 1 p.m. Friday in some grass and spread to oak woodland. The plan of attack for Saturday, according to Little is to work toward full containment, which he believes can be achieved if the winds do not kick up, adding, "We lucked out Friday. We actually expected more winds and we didn't have those conditions present themselves so, things actually went better than expected."
Fire investigators are actively trying to determine what sparked the blaze.