Transient Couple Arrested For Stealing A Home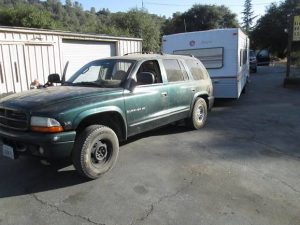 Stolen Trailer

View Photos
Big Oak Flat, CA — The two were found sleeping in a truck attached to a stolen travel trailer, Tuesday morning and taken into custody.
A call came into the Tuolumne County Sheriff's Department regarding "people who appeared to be passed out" in the parking lot of the Miners Mart in Big Oak Flat. A deputy responded and found 54-year-old Michael Wood and a passenger Kelly Collett, 56, from Modesto in a green Dodge Durango with a travel trailer attached. Sheriff's officials report that while questioning the couple the deputy noticed Collett kept nodding off and spotted a silver spoon with a brown tar substance on the dashboard. A search of the vehicle turned up a glass pipe on the passenger seat and another one was found under the driver's seat along with five Alprazolam pills in Collett's purse for which she had no prescription.
The couple admitted to stealing the trailer from Vernal Drive in Groveland stating they planned to live in it as they are homeless with no place to stay. However, Sheriff's spokesperson Andrea Benson reports that may not be the case, "There is a broken window out on the trailer and a broken key insert. There could have been other purposes for stealing this vehicle. It appears that there were other vehicles and property tampered with at the site. More investigation will be going into the property and whether their story pans out that they were trying to steal it to live in it."
Wood faces charges of vehicle theft, receiving known stolen property and possession of controlled substance paraphernalia and Collett for receiving known stolen property, possession of a controlled substance and possession of controlled substance paraphernalia. Sgt. Benson notes that the brown tar substance found on the spoon tested positive for heroin.