Federal Government Managing Multiple Fires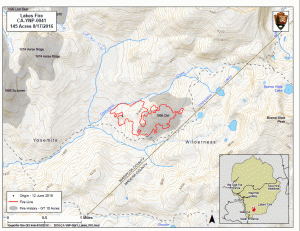 Lakes Fire In Yosemite

View Photos
There are new size estimates for fires burning in Yosemite National Park and the Stanislaus National Forest.
The Mokelumne Fire that ignited last month in the Mokelumne Wilderness is up to 95% containment and holding at 655 acres. The fire was started by a lightning strike on August 18th and officials have been managing it for ecological benefit. There remains 15 firefighters assigned to the incident, a single hand crew, and a helicopter.
Meanwhile, the Lakes Fire burning in Yosemite National Park, also ignited by a summer lightning strike, is up to 755 acres. The fire is being managed for multiple objectives and being allowed to burn naturally. The fire did go across the Chilnualna Creek, so a nearby trail is closed indefinitely.
Also of note, smoke will be visible near the Ahwahnee Meadow at some point later this week. Yosemite National Park fire managers are planning a 62 acre prescribed burn. The ignition will take one day, and burning will last for an additional 2-4 days, depending on weather conditions.