McClintock: Federal Land Ownership Is Excessive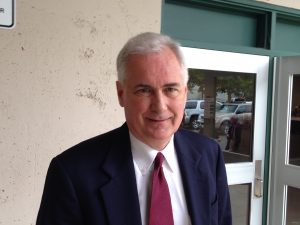 Tom McClintock

View Photos
Washington D.C. — Local Congressman Tom McClintock explains how the Federal Lands Subcommittee should recognize "Western revolt" to the more land being acquired by the federal government. Specifically he states the Federal Government owns 48 percent of the state of California and 93 percent of Alpine County calling it "excessive federal land ownership" that is a "drag on our economies and a direct impediment to taking good care of our public lands."
McClintock was Friday's KVML "Newsmaker of the Day".
As reported yesterday here, Yosemite National Park officially acquired Ackerson Meadow through a cooperative effort between The Trust for Public Land (TPL), Yosemite Conservancy, and the National Park Service. As reported here, when asked their opinion, the Tuolumne Board of Supervisors expressed a desire that the land remain accessible for ranchers, who they thought would be better stewards of the land than the park.
In McClintock's newest blog he states "The Federal Lands Subcommittee has three principal goals: to restore public access to the public lands; to restore sound management to the public lands; and to restore the federal government as a good neighbor to those communities most impacted by the federal lands." He says the federal government has become "indiscriminate and voracious in the amount of land under its direct control," and further states, "The National Parks Service estimates it is facing more than $12 billion of maintenance backlog, yet we keep adding to the federal holdings that we can't take care of."
Read more details about the situation from McClintock regarding the management and extent of federal land ownership in his newest blog "Growing Federal Footprint" here.
The "Newsmaker of the Day" is heard every weekday morning at 6:45, 7:45 and 8:45 on AM 1450 and FM 102.7 KVML