Ackerson Meadow Becomes Part Of Yosemite National Park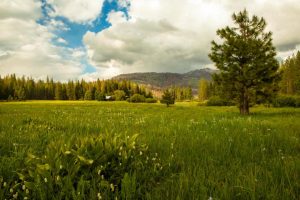 Ackerson Meadow - Yosemite National Park

View Photos
Yosemite National Park, CA – A controversial transfer involving a 400-acre gift of historic ranchlands to Yosemite National Park is officially complete.
Yosemite National Park officials announce that as of today, Ackerson Meadow has been officially acquired by the park through a cooperative effort between The Trust for Public Land (TPL), Yosemite Conservancy, and the National Park Service.
The plans of Robin Wainwright and Nancy Ware Wainwright through her family trust to sell the lands for $2.3 million to TPL, which in turn planned to donate it to Yosemite National Park, drew a good deal of regional debate last year. As reported here, the Tuolumne Board of Supervisors were asked by TPL to weigh in with their opinion. The board ultimately voted back in December to send a letter to stakeholders recommending against the move. In it, the supervisors indicated a desire that the land remain accessible for ranchers, who they thought would continue to be better stewards of it than the park.
Ackerson Meadow: Critical To Hundreds Of Flora, Fauna Species
A resource and culturally rich property that contains critical wetlands and meadow habitat, Ackerson Meadow is also home to the Sierra Nevada's highest population of endangered Great Grey Owls. The Ericksons. a local ranching family with long-standing ties to the property was vocal among those expressing interest in buying back the property through a trust that would allow it to remain in grazing.
Celebrating the park's new acquisition, Yosemite National Park Superintendent Don Neubacher notes, "The generous donation of Ackerson Meadow will preserve critical meadow habitat that is home to a number of state and federally listed protected species."
TPL President Will Rogers adds, "Donating the largest addition since 1949 to one of the world's most famous parks is a great way to celebrate the 100th birthday of our National Park Service – and honor John Muir's original vision for the park. We are delighted, and proud to make this gift to Yosemite, and the people of America." Yosemite Conservancy President Frank Dean additionally comments that as the original Yosemite boundary plans of 1890 included Ackerson Meadow, it is exciting to finally have it under the park's protection.
Yosemite officials state that even though they comprise only three percent of the overall area, the park's meadow habitats probably house a third of all the plant species and provide filtration for most of San Francisco's water supply.