PAWS To Host Conference, Open New Wildlife Hospital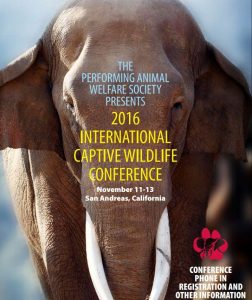 PAWS Wildlife Conference 2016

View Photos
San Andreas, CA – A global gathering is coming soon to Calaveras' sleepy county seat.
Come Nov. 11-12, the PAWS 2016 International Captive Wildlife Conference will be in full swing, so to speak. It is being hosted by the northern California-based Performing Animals Welfare Society (PAWS), whose 2,300-acre ARK 2000 sanctuary is located near Highway 49 off Pool Station Road.
Ever abuzz as it cares for its menagerie of rescued elephants, tigers and other species, the facility, even while preparing for the international gathering, is nearly ready to cut the ribbon on a long-in-the-works exotic animal wellness center.
A Global Focus On Protecting Exotic Wildlife
Ed Stewart, PAWS co-founder and president, says of the conference, "Though PAWS has hosted events like this in LA, Sacramento…all over…we have a really good, long association with [Mountain Oaks School] and its administration and thought it was about time…why not do one here?" As the event falls over a weekend, the school agreed to provide meeting space. Attendees, being directed to book local hotels, are expected to bring a bit of a economic boost to nearby businesses that weekend.
Among the RSVPs, to date, is an international lineup of speakers who will be addressing theme topics centering around the confinement and use of exotic and wild animals, with a special focus on elephants, bears and big cats. "Next wave" sanctuaries for elephants, orcas and nonhuman primates will also be among the highlighted discussion areas.
"We will have people from Asia, the UK, college professors, zoo directors, international speakers," Stewart describes. Among the numerous participating organizations are the Humane Society of the United States; International Fund for Animal Welfare; PETA Foundation's Captive Animal Law Enforcement; Brazil's Global Sanctuary for Elephants; the recently established Whale Sanctuary Project; UC-Davis School of Veterinary Medicine; Calif. Fish and Wildlife. Conference registration, open to anyone with professional or personal interest, closes Oct. 31. Click here for further details.
New Hospital Honors PAWS Co-founder Pat Derby
The soon-to-open on-premise wildlife hospital has been named the Pat Derby Wellness Center. A little mistily, Stewart states, "Most people remember Pat Derby who was my partner over 37 years. She passed away about three and a half years ago and one of her dreams here was to have a medical center for animals. We get tigers that have come from really bad situations and we have elephants with arthritis and foot problems and things like that when they come in. So we are always interested in improving their lives and we have finally accomplished putting together a beautiful wellness center that has really just about anything that UC-Davis Vet Clinic would have on a smaller scale."
A big deal for PAWS and its wildlife residents, Stewart estimates that the facility might cost at least $5 million in a zoo. More importantly, he explains, "A lot of times we would have to take animals to UC-Davis — and it is a long trip — especially if you are tranquilized and recovering and on your way back. Elephants and other animals in captivity develop so many problems that they would not have in the wild."
In other notable news, after a two-year campaign co-led by the Humane Society of the US, PAWS and the Oakland Zoo, Stewart says he is proud that the state has passed SB 1062, outlawing the use of bullhooks on elephants. The law punishes trainers who use them through fines — and, more importantly, by yanking their permit. "It feels like it is about time," Stewart says, matter-of-factly. "We have been kind of working on this for about 30 years to get a little more respect for elephants, and I think the governor signing our bullhook ban is a step in the right direction." Last year, Governor Jerry Brown withheld his support on an earlier version of the bill, citing his well-documented issues with adding more laws to the books where criminal penalties involve jail time.
Bullhook Brandishers On Notice  
Reviled by animal rights advocates as a cruel torture implement rather than a training tool, bullhooks, which somewhat resemble an ax handle with a sharp steel tip-and-hook end, are most commonly used in circuses, roadside animal attractions and by some elephant ride operators. Stewart cracks, "There is no question that it is definitely a weapon. If you tried to get on an airplane with it you would be living in Guantanamo Bay the rest of your life."
Among PAWS entertainment industry friends, Kim Basinger and Lily Tomlin both personally wrote supportive letters to state lawmakers. Key to the success Stewart says, "The California Zoo Association supported the bill, which was a huge thing for us. Zoos have a lot of the experts and power to change things if they come on board and it made a huge difference in getting the ban."
Stewart points to other PAWS' advocacies where he says public support is needed. "One of the biggest problems in the US is pet tigers — 'backyard tigers' — people who are breeding them for novelty reasons," he says with a glint in his eye. He emphasizes, "There are thousands of them — and they should not be in captivity at all." The topic will be another conference focus. He further confides that PAWS is currently working to get a Congressional hearing and open up a forum for public comment, hoping to get Mother Lode Congressman Tom McClintock's support.
Recalling the 'Colton 39' Rescue
"Some people don't realize when we first build the ARK 2000 sanctuary we had a five-year plan to move all the animals from our old facility in Galt, and it is starting to move that way again now," Stewart states. Ironically, PAWS' historic tiger rescue a few years back of 39 big cats from southern Calif. was one of the largest monkey wrenches to alter that schedule. (Click here for more background.)
"Since then, a lot have died off of old age, but that was the biggest tiger rescue in the history of the world and it shouldn't have happened in the first place," Stewart states. "People know us for elephants but saving all those tigers at once was the hardest thing we have ever done…I never want to hear about anybody taking their cat to the vet. It was like a military operation. I am starting to forget about how hard it was."
In wrapping up, Stewart recalls, "Dr. Jackie Gai, who was in charge of [the historic tiger rescue], will be one of the conference speakers. She is probably the go to vet in the country for geriatric tigers and elephants. We are lucky to have her." He laughs, "And she also deserves this new facility that we built."