Proposed Private Land Transfer To Stanislaus National Forest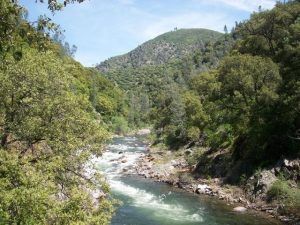 Clavey River

View Photos
Mammoth Lakes, CA- The US Forest Service is reviewing a proposal to acquire 920 acres of private land in four separate privately owned parcels along the Clavey River near Yosemite National Park in exchange for 30.6 acres of US Forest Service land in the Inyo National Forest for the Mammoth Mountain Ski Area.
If approved, after public comment and review, the proposal states the Stanislaus National Forest would manage the four newly acquired parcels to "preserve the notable values or features as part of, or for eventual inclusion in, the National Wild and Scenic River System." The private land along the Clavey river described in the exchange does not need remediation, or an Environmental Site Assessment, and is defined as "containing either frontage on a perennial stream or headwaters areas for a perennial stream." According to the Forest Service, acquiring the Clavey property will "improve management capabilities and ensure adherence to standards and guidelines."
The Proposed Action dates back to 2011 when efforts to buy 30.6 acres of US Forest Service lands used under a Special Use Permit by Mammoth Mountain Ski Area began. In all the Mammoth Main Lodge Redevelopment LLC, a legal entity closely related to Mammoth Mountain Ski Area LLC, will give the USFS nearly of 1,320 acres of privately owned lands in or near the boundaries of the Inyo, Plumas and Stanislaus National Forests.
The USFS describes the lands offered in the exchange as "priorities for acquisition through land exchanges in the 1988 Inyo National Forest Land and Resource Management Plan."
The proposal also states the land transfer will remove ownership and release the Forest Service from managing sewage ponds and treatment facilities for the Mammoth Mountain Inn, Yodler, Main Lodge, McCoy Station, and the Mill located with in the 30.6 acres to be exchanged. If an exchange is approved, the Forest Service will have no jurisdiction over potential development of the Mammoth Ski Area.
The Inyo National Forest will hold a public meeting on September 8th from 6:00 pm-8:00 pm at The Mammoth Lakes Council Chamber, Suite Z, 437 Old Mammoth Road, Mammoth Lakes, CA (above the Vons) to provide an overview of the project and to answer questions from the public.