Juvenile Arrested After Pinecrest Pontoon Joy Ride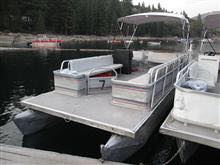 Stolen pontoon boat

View Photos
Pinecrest, CA — A group of teens found the keys in a $20,000 rental pontoon boat and decided to set sail on Pinecrest Lake Thursday around 5:30 p.m.
A Marina staff member took chase in another vessel and once in open water confronted the driver, a 15-year-old male, for stealing the boat. The marina employee convinced the teen to turn around and head back to port. However, in doing so, he drove over a log barrier surrounding the marina and smashed into another vacant pontoon at the dock.  Just before the crash, the teen driver jumped overboard. Once on shore, he took off on foot but staff was able to capture him. That did not deter him though as Tuolumne County Sheriff's officials report the suspect tried to run away several times before a deputy arrived on the scene.
The juvenile was arrested for grand theft, providing false identification to law enforcement, and for violating his felony juvenile probation status. He was turned over to the Tuolumne County Juvenile Probation Department. Sheriff's official report the other teens on the boat also jumped off as it approached land and escaped capture. The suspect has also not offered up any of his cohort's names to detectives.
Damage was done to the boat and its engine but no estimated cost was given by sheriff's officials.