Sparse Interest In Many School Board And Special District Races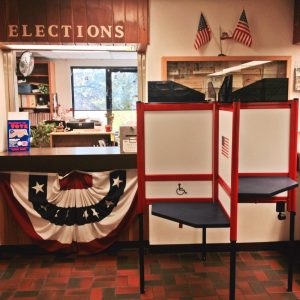 Tuolomne County Election Office

View Photos
Sonora, CA — The final filing deadline for those running for office this November passed late yesterday, and several races have more seats than candidates.
We reported previously that in races in which the incumbents were running, the filing deadline was last Friday. However, if an incumbent was not running, the deadline was extended to 5pm yesterday.
When it comes to special districts and school boards, Tuolumne County Clerk and Auditor Controller Debi Bautista says the only races that have more candidates than seats are Tuolumne Utilities District, Twain Harte School District and the Tuolumne Park and Recreation District.
Candidates for TUD (three seats available) include incumbents John Maciel, Ron Kopf and Kent Johnson, and challengers David Axelrod, Bob Rucker and Barbara Balen. Those running for the Twain Harte School District (two seats available) are Elisha Wingo, Kellee Leamy, Rose Wingo and Nathan Nutting. The candidates for Tuolumne Park and Recreation District (two seats available) are incumbents Darrin Evans and David Keller, and challenger Jake Feriani.
School boards that have an equal number of candidates as there are seats include Big Oak Flat-Groveland, Sonora High, Summerville High, Columbia Elementary, Curtis Creek Elementary, Jamestown Elementary, Sonora Elementary and Soulsbyville Elementary. Districts that have fewer candidates than open seats include the County Board of Education, Belleview Elementary and Summerville Elementary. Those candidates will all be declared winners and their names will not appear on the November ballot. District boards that still need more candidates will have to appoint people to fill those voids.
Meanwhile, local candidates for Assembly and US Congress were determined during the June primary election.
You can find a complete list of candidates that filled papers for the various races by clicking below.
Final School Board and Special District Candidates