County Looks To Add Recreation Facilities Near Standard Park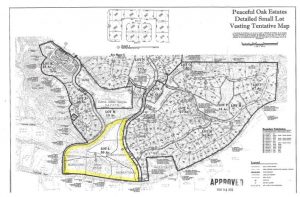 Location Of Planned Recreation Facilities In Standard

View Photos
Standard, CA — The Tuolumne County Supervisors support applying for grant money available through California's Proposition 40.
Competitive grants, through California's Youth Soccer and Recreation Development Program, are available up to $1-million. A 50 acre parcel of property, located at the intersection of Tuolumne Road and Standard Road, directly across from Standard Park, is where the county would potentially like to add fields/facilities. The land was set aside for recreational use as part of the Peaceful Oaks Estates Subdivision tentative map approved in 2010. Sierra Pacific Industries is the land owner and will turn over the property for public use after houses are built. That said, SPI has expressed a willingness to sign a land tenure agreement with the county in support of this particular grant application.
What the end effort would look like is still to be finalized. In applying for the grant, the county agrees to hire a firm to complete several planning documents. They include designing a conceptual master plan and providing a construction cost estimate.
The Supervisors voted 5-0 this morning in favor of preparing the application. District 3 Supervisor Evan Royce added, "This is exciting and a really cool prospect. I think not only is there a possibility of finding private money and community resources, but I think there is the possibility that some professionals would also be willing to do some work pro-bono.
The Prop. 40 grant funding could only go towards youth soccer, softball, baseball or basketball facilities. The county plans to organize upcoming community meetings to gain input and support for the idea.