Sheriff's Office Confiscates Gun During Tuolumne Traffic Stop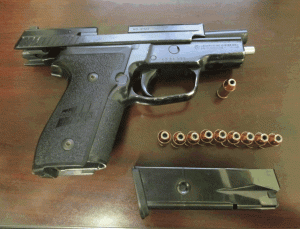 Confiscated During Tuolumne Traffic Stop

View Photos
Tuolumne, CA — The Tuolumne County Sheriff's Office is investigating whether a gun located during a weekend traffic stop in Tuolumne had been stolen.
46-year-old Heath Biszmaier of Vista, California was contacted after allegedly running a stop sign and driving at a high rate of speed. He was in a black Subaru Legacy along Carter Street. When a deputy first tried to catch up with the vehicle, Biszmaier abruptly exited and walked at a fast pace towards a home on Madrone street.
Biszmaier, however, stopped and returned to the vehicle at the deputy's demand.
The deputy searched the Subaru and located a .40 caliber semi-automatic handgun in the center console. A records check determined that the registered owner is someone different then Biszmaier claimed. Biszmaier was arrested and booked into Tuolumne County Jail on a charge of carrying a concealed firearm that is not registered to him. The Sheriff's Office reports that deputies will be contacting the registered owner to determine if the gun was stolen.
The incident happened at approximately 9pm on Saturday.