Proposed CA Ballot Measure Would Reverse New Gun Law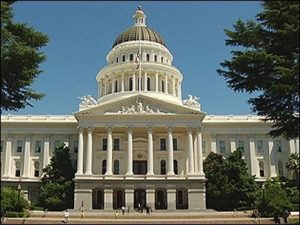 California Statehouse

View Photos
Sacramento, CA — The Secretary of State's Office reports proponents of a gun related ballot measure have completed all the needed paperwork and can begin collecting signatures to put the matter before voters.
At issue is a recently approved state bill that was passed by the legislature and signed by the Governor. It requires anyone making homemade firearms to undergo a Department of Justice background check and to place a serial number on all such firearms.
Proponents  introduced the bill in response to some Californians making "ghost guns," which are plastic guns that can slip through metal detectors and end up in the hands of people prohibited from owning firearms. Gun rights groups, however, argue that it is unnecessary restrictions because criminals will just circumvent the new law.
Proponents have until October 20 to collect the needed 365,880 signatures to put a measure on the November ballot calling for a reversal of the new law.