Fireball Witnessed Across Several States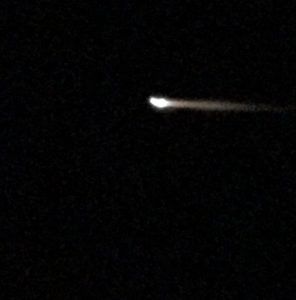 Possible Meteor Witnessed in Tuolumne County
Sonora, CA — Many in the Mother Lode, and beyond, reported seeing a fireball streaking across the sky last night.
This reporter saw the streak at around 9pm while driving near downtown Sonora. There were also reports of people seeing it in regions like the Bay Area, Los Angeles and as far away as Nevada and Utah.
The Associated Press reports the Director of Griffith Observatory in Los Angeles believes that it may have been from the Delta Aquarids Meteor Shower, which is anticipated to peak tonight and tomorrow.
Officials from Nellis Air Force Base in southern Nevada believe it was a meteor breaking up.
A U.S. Strategic Command spokesperson later said it was believed to be a Chinese Rocket re-entering the atmosphere.
A special thanks to community news partner Larry Paukert for sending the picture. You can also click on the video box in the upper left hand corner to see footage shot by Vincent Barr at last night's Ironstone Vineyards concert.
Photos or video can be e-mailed to news@clarkebroadcasting.com.