An Opponent Of Gun Restrictions Target Six Laws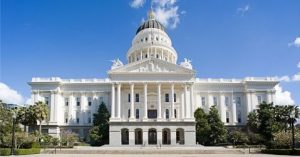 California State Capitol

View Photos
Sacramento, CA — Voters may have the final say on a string of laws regulating gun use – but it may be a long shot as there is limited time to gather the signatures needed.
The laws involved expand background checks for ammunition purchases and attempt to curb rapid-reloading firearms by outlawing the "bullet button." The device replaces the magazine release with a block forcing the user to remove the magazine with a tool instead of their finger.
The same person, Barry Bahrami of Carlsbad, submitted all the petitions in hopes of getting enough signatures for the November 2018 ballot.  In all, each of the six petitions must garner 365,000 signatures. A tall order with just two months left to gather them, as the deadline to submit the signatures to county election officials is September 29, 2016.
Firearms Policy Coalition officials call the petition drives an improbable undertaking as the campaign has no known financial backers.