One Or Two Community Centers?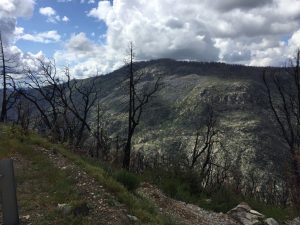 Rim Fire Burn Area

View Photos
Sonora, CA — It is a question Tuolumne County leaders will be taking directly to the public in regards to spending the federal National Resilience Competition money.
Tuolumne County Deputy CAO Maureen Frank reports that the $70 million dollar Housing and Urban Development (HUD) grant funding was officially awarded on June 2 for the post Rim Fire projects.  The money is being broken down into three tiers, as earlier reported here.  Right now the county is working with the state and US Forest Service on the needed HUD paperwork. Frank notes once that is done the state will contract back with the county to get the projects rolling.
Beginning in the fall, the county will focus on the tier that it will oversee directly, which is the Community Resilience Center. In an emergency it could serve as an evacuation center or a place for first responders, indicates Frank. She adds that on a daily basis, "It could be a place for a cooling center; maybe we'll do some collaboration with Columbia College. It could be a place where we bring governmental services in…where we set up computers and we could do job training…or fill out job applications."
Originally the county had asked for $55-million to build two centers, instead it received $19.8-million. The big question now is whether to stick to building two or just one. Frank says for the answer, public feedback is needed, stating, "There will be plenty of community engagement. We'll go out and seek input from the community. What do they want to see in these centers? What services, programs, and what the centers should look like?"  Taking that information into account, the Board of Supervisors will make the final decision on the number of center, their size and where they should be located. The grant stipulates that the placement of the facility(s) be in Tuolumne or Groveland or both.
Additionally, in winter, an architectural firm will be hired to develop the construction plans and search criteria to investigate different properties for the center. With regards to the center's design, Frank says there are no rules but emphasizes, "It's for us to have it be state of the art type of construction, meaning green building standards.  Really making them energy efficient as we possibly can.  To be a good model in which other communities of our size and rural nature can take and replicate in their communities."
Once the site is selected, the county will have to go through the NEPA process, which could take eight to nine months, according to Frank, who shares that construction probably will not started until sometime in late 2017 or early 2018.