Two Jailed After Early Morning Traffic Stop Sniff Search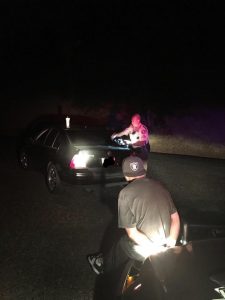 Andresian, Williams Drug Bust, TCSO Arrest Photo, 7-18-2016

View Photos
Sonora, CA — In the early hours Monday, K9 Hans helped Tuolumne County sheriff's deputies make a drug bust following a Jamestown traffic stop.
According to Tuolumne County Sheriff's spokesperson Sgt. Andrea Benson, just before 1 a.m. deputies stopped a 2010 black Volkswagen Jetta at Peppermint Creek Road because it was missing a front license plate, calling in the K9 unit to assist with the stop.
After K9 Hans sniffed the vehicle and alerted to narcotics inside, the driver, 34-year-old Austin Andreasian of Columbia, and passenger 37-year-old Jera Williams of Jamestown were also searched. Deputies recovered 27.3 grams of methamphetamine, 4.4 grams of heroin and 1.7 grams of marijuana along with packaging materials and drug paraphernalia.
Both were subsequently booked into the Tuolumne County Jail for possession and transportation of narcotics for sale, criminal conspiracy and possession of drug use paraphernalia. Andreasian was also charged with driving with a suspended license. Both he and Williams remain in custody on bails of $30,000.