Affordable Housing Measure Could Go Before Tuolumne County Voters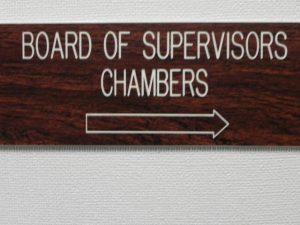 Tuolumne County Board of Supervisors Sign

View Photos
Voters in Tuolumne County may decide the fate of a proposed affordable senior housing development at 10970 Golf Links Road.
The Valley Vista Senior Apartments would include 80 units of affordable senior housing.  Article 34 of the California Constitution requires low rent housing projects to receive approval from the electorate of the local city or county.  The Tuolumne County Board of Supervisors will decide on Tuesday whether to place an affordable housing measure on the November 8 ballot.
The apartments would be developed by the Valley Vista Limited Liability Corporation LLC, which is a partnership between Valley Vista LLC and Visionary Home Builders. The group plans to receive state allocated public funds to complete the project construction. Valley Vista LLC is comprised of private investors and Visionary Home Builders is a non-profit affordable housing organization located in Stockton.
In other business on Tuesday, the Supervisors will vote on approving a contract with Moss and Associates in the amount of $355,060 for the first phase of construction management services for the new county jail facility.
The Supervisors meeting starts at 9am.