Grand Jury: Study Tuolumne County School Reorganization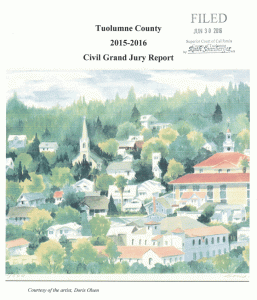 2016 Tuolumne County Grand Jury Report

View Photos
Sonora, CA — Among the 2016 Grand Jury recommendations is to study the potential economic benefits and costs of reorganizing the school districts in Tuolumne County.
It is among the interesting tidbits that were included in the 77-page annual Grand Jury report that was released this morning. The Grand Jury, which was created under the California Constitution, is tasked with promoting honesty and efficiency in government. Each of California's 58 counties has a citizen Grand Jury and it reviews the performance of county and city governments, school districts, and special districts.
Among the seven areas investigated this year, the Grand Jury looked into the plausibility of reorganizing the 11 school districts in Tuolumne County. Citing the continuing decline in school enrollment, the Grand Jury is questioning whether it would be beneficial to consolidate the various districts and reduce the administrative overhead.
The Grand Jury report notes that there are 31 public schools in Tuolumne County that are managed by the 11 districts. Of the 11 districts, five are single school districts (elementary) and one operates two elementary schools.
The Grand Jury found that several districts have agreed to participate in a Joint Powers Authority (JPA) to receive favorable pricing on things like propane. However, the costs would be further decreased if more schools participated, and if it expanded into other items like cafeteria supplies, paper, bus storage and maintenance and IT support.
Having so many school districts also creates problems related to inter-district transfer requests, as it creates enrollment and administrative problems between school districts. The report notes that those issues could be greatly reduced by merging districts.
The Grand Jury is recommending that all 11 school districts create a cost-benefit analysis looking at expanded JPA efforts, and encourages greater purchasing by the JPA when savings are apparent.
In addition, it recommends there be an independent study conducted of the potential economic benefits and costs of school district reorganization. The results of this study should be made available to all Tuolumne County taxpayers and elected officials. The Grand Jury encourages the seeking of grant money to pay for the study from public or private agencies.
Other areas that were investigated this year include T.U.D.'s operations, ATCAA, Ralph M. Brown Act complaints, Tuolumne County Jail, Community Resources Agency Filing Fees and the Sierra Conservation Center.
Related the Brown Act, complaints were made against the City of Sonora, Sonora Union High School District and Summerville High. The Brown Act requires transparency among government entities.
Regarding T.U.D., the Grand Jury initially started to investigate the feasibility of re-integrating the district with Tuolumne County. However, as the investigation progressed, the Grand Jury determined that such a move was not practical and shifted the focus to operating costs and potential cost savings.
Sierra Conservation Center and the Tuolumne County Jail are investigated each year.
You can read the entire Grand Jury report by clicking here.